Dog Training in Palm City
Has your furry companion been exhibiting poor or destructive behavior? Are they having trouble listening to basic commands? Giving a Dog a Bone is here to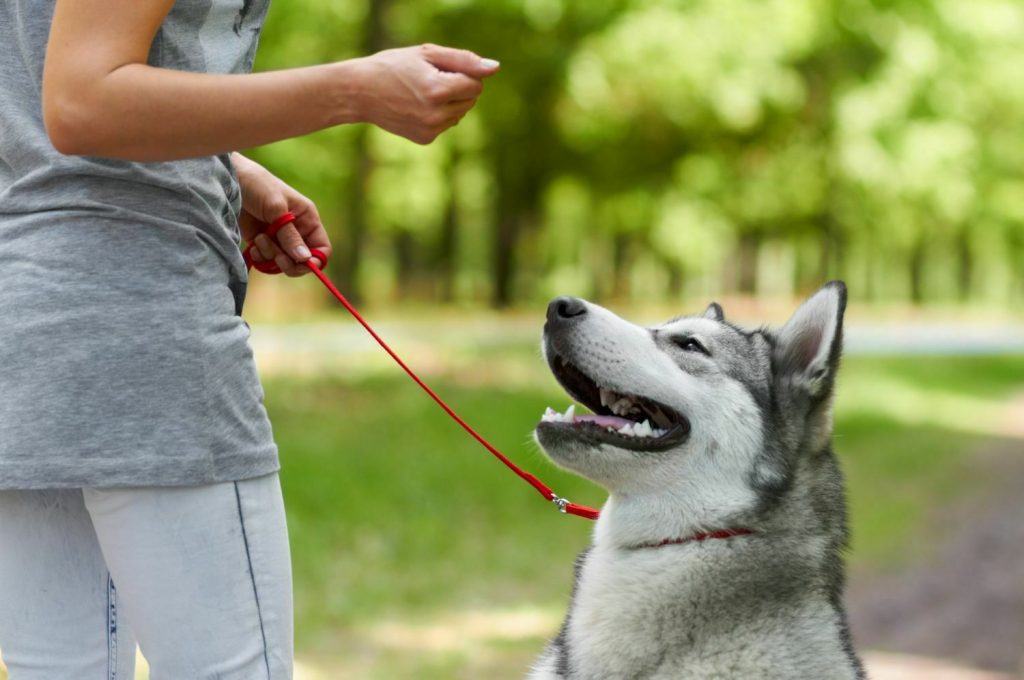 turn your dog's behavior around! We all love our dogs. They give us unconditional love no matter how we're feeling or how bad the day was. While this is nice, they can sometimes display behaviors that we find unacceptable and can be destructive to the environment around them. Giving a Dog a Bone offers different levels of dog training in Palm City that works for any dog, no matter what age they are. We train puppies, adult dogs, and even older dogs. Who says you can't teach an old dog new tricks? 
Whether you have a new puppy in Palm City or you want to teach your old dog to behave better, it's always a good idea to seek out professional help. Professional dog training will ensure that your dog sticks to a regular routine and makes sure they don't forget everything they learned in just a few days. Giving a Dog a Bone are fully qualified dog training professionals in Martin County that will make sure your dog learned better manners and new tricks. We offer different levels of training that work for dogs of all ages.
Leaders in Dog Training in Palm City
When you need your dog trained, you should never pick a random dog trainer or pick the first one you see. You want to make sure that the trainer you pick is experienced, professional, and caring towards your dog. Choosing Giving a Dog a Bone means never having to worry about how your dog will be treated. All of our professional dog trainers are compassionate and actually care about the results they see from your dog. We take our time to ensure that your dog knows how to walk, sit, and behave in a correct manner.
Qualified Palm City Dog Trainers
Becoming a certified dog trainer isn't easy. If it were, everyone's dog would be walking around with perfect manners. Just because someone loves animals, doesn't mean they have the proper knowledge, experience, or patience to handle training one. Some of the important qualifications to train a dog include pet care, dog walking, and extensive training experience. It's also important that a dog trainer knows pet CPR and first aid if any serious event were to occur. It's always better to be safe than sorry. 
These qualifications are important. Qualified dog trainers should have ample experience with training dogs but it's also important to have the knowledge of what to do if a medical emergency were to arise. We make sure to have all of these different aspects covered. At Giving a Dog a Bone, Joe Butler is certified in Pet First Aid and CPR from PetTech. Our other owner and trainer, Victoria Butler, also has a certification in Pet First Aid and CPR from Harmony Animal Hospital. Don't let anyone train your dog. Have your dog training in Palm City handled by the professionals at Giving a Dog a Bone. 
Traits for the Best Dog Trainer
Having a dog trainer who wants to be there and wants to see a change in your dog will make a huge difference in how each training session goes. Dog training goes much deeper than what appears on the surface. It takes more than just having the proper training and certifications. Training your dog with someone who has lots of experience and loves what they do is always the best way to go. When a trainer has a good attitude, your dog is more likely to follow along. 
Giving a Dog a Bone has the best-qualified team members for dog training because they all LOVE animals and will treat each dog as if they were their own. You can always count on the individuals from Giving a Dog a Bone to provide effective dog training in Palm City.
Giving a Dog a Bone Wants to Train Your Dog
If you're looking for dog training in Palm City, look no further than Giving a Dog a Bone. You and your dog will receive high-quality and professional dog training services from certified trainers. There's no better place in Martin County to have your dog trained. If you want the best for your pet and strongly effective dog training services in Palm City, then call Giving A Dog A Bone today at (772) 600-8435 or visit our contact page.