Welcome to Giving a Dog a Bone, your trusted partner for Beginner Dog Training in Coral Gables and surrounding areas. We understand the joys and challenges of having a canine companion. Every dog is unique, and their behavior can vary widely. Whether you're dealing with a spirited puppy or a seasoned senior dog, our dedicated team is here to help.
At Giving a Dog a Bone, we specialize in addressing a wide range of behavioral concerns in dogs of all ages. Our expert trainers, based in Coral Gables, Florida, are committed to ensuring that your furry friend becomes a well-behaved and obedient companion.
We believe that age and temperament should never be obstacles to learning. Our trainers are skilled in puppy training, focusing on instilling foundational skills during this critical phase. For senior dogs, we offer specialized programs that address age-related issues with patience and care.
Our Coral Gables dog training programs are designed to meet your dog's unique needs and circumstances. Whether you need basic obedience training or behavior modification, we have a solution for you. Our trainers use positive reinforcement techniques to create a positive and effective learning experience for your furry friend.
Don't wait – invest in your dog's future with our Beginner Dog Training in Coral Gables. Join the many satisfied pet owners who have experienced the benefits of our expert training programs.
Leaders in New Dog Training in Coral Gables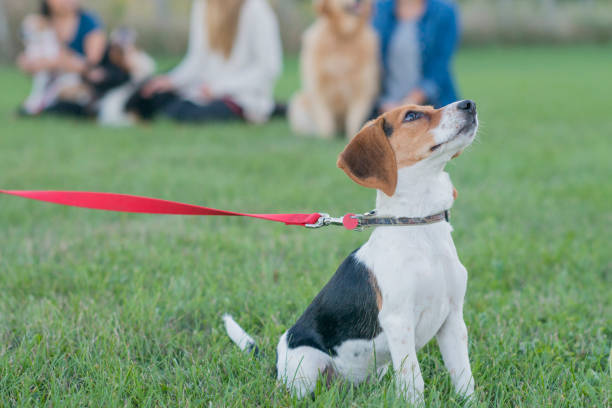 When it comes to finding the best solution for your dog's behavioral needs, conducting thorough research is paramount. Choosing a dog trainer in Coral Gables for beginner dog training is a decision that should be made with confidence in their expertise. At Giving a Dog a Bone, we epitomize professionalism, drawing upon years of experience and the essential qualifications required to effectively guide and train dogs.
When you opt for our services, you're not just selecting a dog training company; you're choosing a team of highly skilled professionals who are deeply passionate about their craft. Our mission is to foster the holistic development of your furry companion, molding them into the best version of themselves.
Qualified Coral Gables Dog Trainers for Young Dogs
At Giving a Dog a Bone, we understand that achieving well-mannered and disciplined dogs necessitates a deep understanding of pet care, proper dog training techniques in Coral Gables, and extensive training experience. Moreover, we prioritize safety, which is why all our trainers are certified in Pet First Aid and CPR. Your beloved canine companion will be in capable hands.
Our dedicated team of trainers, including Joe Butler and our owner Victoria Butler, are not only experienced in dog training but also hold certifications in Pet First Aid and CPR in Coral Gables. This means we're prepared to handle any situation, ensuring the safety and well-being of your furry family member.
Traits for the Best Dog Trainers
When it comes to Beginner Dog Training in Coral Gables, choosing the right trainer is a crucial decision that can make all the difference in your dog's educational journey. Dog training is a multifaceted process that goes beyond just following a set of instructions. It requires expertise, experience, and a genuine passion for canine development. At Giving a Dog a Bone, we understand that the key to successful training lies in the hands of our dedicated trainers who bring years of experience and a deep love for dogs to every session.
Giving a Dog a Bone Wants to Train Your Dog
If you're looking for beginner dog training in Coral Gables, look no further than Giving a Dog a Bone. You and your dog will receive high-quality and professional dog training services from certified trainers. There's no better place in Palm Beach County to have your dog trained. If you want the best for your pet and strongly effective dog training services in Coral Gables, then call Giving A Dog A Bone today at (772) 600-8435 or visit our contact page.