We all share a deep affection for our canine companions, who greet us with unwavering love every single day. However, there are instances when our furry pals struggle to exhibit the desired behavior. Every dog boasts a unique personality and may grapple with a range of behavioral challenges. These concerns might arise upon encountering specific objects or navigating certain environments. Fret not, for Giving a Dog a Bone stands ready to assist! Our comprehensive dog training programs ensure that your beloved pet emerges with a solid grasp of essential commands and a plethora of valuable skills. Based in the heart of Lake Worth, Florida, Giving a Dog a Bone extends a variety of specialized dog training options tailored to suit any dog, regardless of temperament or age. Count on us to demonstrate that instilling fresh behaviors in an older dog is entirely feasible.
Whether you're embarking on the journey of teaching a fresh-faced puppy the fundamentals or embarking on a quest to refine an older dog's conduct, the wisdom of engaging a professional dog trainer cannot be overstated. Our accredited team of dog training experts at Giving a Dog a Bone, located in the vibrant community of Lake Worth, Florida, are primed to produce genuine and lasting results. Professional dog trainers orchestrate a consistent training regimen that maximizes knowledge retention and curbs the tendency to forget new skills. With a focus on precision and care, Giving a Dog a Bone is your go-to destination for top-tier dog training delivered by dedicated professionals. Witness firsthand how your cherished pet departs our facility with enhanced manners and an all-around improved demeanor. Tailoring our training to accommodate various needs, we are committed to facilitating the development of your furry friend.
Leaders in New Dog Training in Lake Worth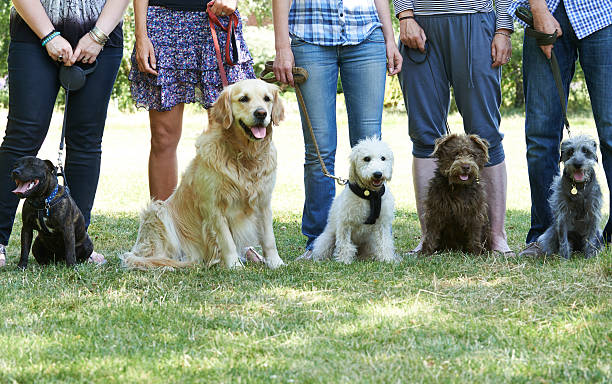 When seeking assistance for your canine companion's behavior, it's essential to conduct thorough research before making a decision on a dog trainer. Ensuring your chosen trainer possesses professionalism, expertise, and the necessary qualifications is paramount. At Giving a Dog a Bone, we offer a dedicated team of proficient experts committed to providing your dog with the utmost attention and guidance they deserve. Our consortium of trainers, affiliated with Giving a Dog a Bone, boasts comprehensive qualifications and a genuine passion for their craft. The transformation of your dog into a well-mannered, exemplary version of themselves is our shared goal. Our approach involves patient and meticulous training for each dog entrusted to our care. Whether it's walking, sitting, or exhibiting proper behavior, our trainers instill the necessary skills for your dog to excel in any environment.
Qualified Lake Worth Dog Trainers for Young Dogs
Training dogs professionally is a multifaceted endeavor that requires a unique blend of expertise, dedication, and hands-on experience. Not every dog owner possesses the combination of time, skills, and patience required to conduct effective training sessions. While a passion for dogs is a great starting point, it takes more than love alone to cultivate a well-behaved canine companion. The key ingredients for successful dog training encompass a deep understanding of pet care dynamics, adeptness in dog walking techniques, and a proven track record of training accomplishments. Equally crucial is proficiency in pet CPR and immediate animal first aid techniques, essential for addressing any unexpected health incidents. Entrusting your furry friend to capable hands is a paramount reassurance.
These qualifications hold significance not only within the broader context of pet training but particularly in the realm of dog training. Competent dog trainers must not only possess hands-on experience with dogs and a thorough understanding of training techniques but they should also be well-versed in responding to potential medical emergencies. At Giving a Dog a Bone, we take these considerations to heart. Our dedicated trainer, Joe Butler, boasts a coveted certification in Pet First Aid and CPR conferred by PetTech. Likewise, Victoria Butler, co-owner and trainer, holds a certification in Pet First Aid and CPR from Harmony Animal Hospital. When it comes to entrusting your beloved furry companion to a training professional, the credentials and expertise of Giving a Dog a Bone's trainers speak volumes. Rest assured, your dog's journey to well-behaved excellence is in the most capable hands.
Traits for the Best Dog Trainers
Our team members at Giving a Dog a Bone are not only highly qualified but also deeply devoted to fostering a strong bond between you and your furry friend. We firmly believe that a trainer's positive attitude and genuine enthusiasm can significantly impact your dog's progress. By choosing us for your dog's training needs in the Lake Worth area, you're partnering with professionals who share a common goal: to help your pet flourish and excel in its training journey.
Giving a Dog a Bone Wants to Train Your Dog
If you're looking for beginner dog training in Lake Worth, look no further than Giving a Dog a Bone. You and your dog will receive high-quality and professional dog training services from certified trainers. There's no better place in Palm Beach County to have your dog trained. If you want the best for your pet and strongly effective dog training services in Lake Worth, then call Giving A Dog A Bone today at (772) 600-8435 or visit our contact page.