At Giving a Dog a Bone, we understand the unique personalities of our canine companions and the occasional challenges they bring. Whether your four-legged friend reacts to specific situations or environments, our dedicated team is here to help. We specialize in Beginner Dog Training in Sunrise, providing tailored solutions to address a wide range of behavioral concerns.
Located in sunny Sunrise, Florida, Giving a Dog a Bone is your trusted partner in canine education. We firmly believe that age and temperament should never be barriers to a dog's ability to learn and thrive. Our comprehensive Sunrise Beginner Dog Training programs cater to dogs of all dispositions and ages.
During the critical puppyhood phase or the later stages of a dog's life, instilling foundational skills and addressing behavioral issues are equally important. Our team comprises experienced dog trainers who are passionate about their work. At our Sunrise facility, we offer a nurturing learning environment that accommodates dogs of all backgrounds and temperaments.
When your furry friend completes our program, you'll witness remarkable improvements in their manners and overall demeanor. Explore our diverse range of training programs to find the perfect fit for your dog's unique needs and circumstances. Trust Giving a Dog a Bone for exceptional Beginner Dog Training in Sunrise, where we empower dogs to become well-versed in essential commands and so much more.
Leaders in New Dog Training in Sunrise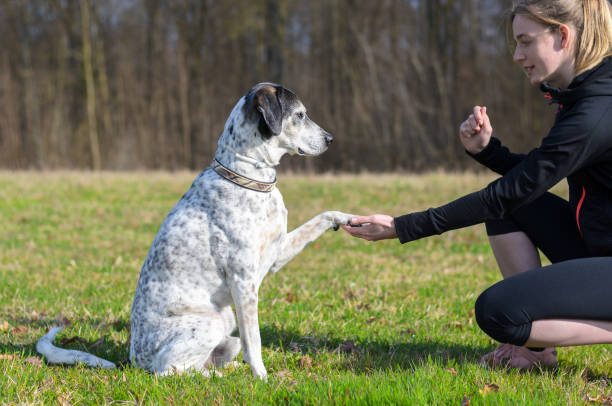 Our trainers at Giving a Dog a Bone are not only highly qualified but also deeply passionate about their craft. Their shared mission is to foster your dog's development into the best possible version of themselves. We take a personalized approach to every dog under our care, ensuring they master essential commands like walking, sitting, and exhibiting proper behavior, both in the comfort of your home and in various outdoor environments.
When it comes to "Beginner Dog Training Sunrise," our Sunrise, South Florida location ensures convenient access to our services. We understand the unique needs of dog owners in this area and tailor our training programs to address them comprehensively. Whether you're a new dog owner or looking to enhance your dog's skills, Giving a Dog a Bone is your trusted partner in achieving these goals.
Qualified Sunrise Dog Trainers for Young Dogs
What sets our dog training services apart is our team's extensive experience and commitment to your pet's safety. Joe Butler, one of our exceptional trainers, holds certification in Pet First Aid and CPR from PetTech. Victoria Butler, our dedicated owner and trainer, is also certified in Pet First Aid and CPR from Harmony Animal Hospital. These certifications reflect our dedication to providing a safe and secure environment for your beloved canine companion.
If you're seeking professional dog training in Sunrise, Florida, that goes beyond the basics, Giving a Dog a Bone is your ideal choice. We combine years of experience, certified expertise in pet first aid and CPR, and a genuine love for dogs to provide top-notch training services. Let us help you and your furry friend embark on a journey towards a stronger bond and a happier, more obedient companion. Contact Giving a Dog a Bone today for the best in beginner dog training in Sunrise.
Traits for the Best Dog Trainers
When embarking on the journey of beginner dog training in Sunrise, Florida, choosing the right dog trainer is a pivotal decision. Your furry companion's path to becoming a well-behaved and intelligent pet depends on it. While the concept of dog training may appear straightforward, it's a nuanced process that extends far beyond standard certifications and training methodologies. Opting for a Sunrise dog trainer with extensive experience and an unwavering passion for the craft can yield remarkable results.
Giving a Dog a Bone Wants to Train Your Dog
If you're looking for beginner dog training in Sunrise, look no further than Giving a Dog a Bone. You and your dog will receive high-quality and professional dog training services from certified trainers. There's no better place in Palm Beach County to have your dog trained. If you want the best for your pet and strongly effective dog training services in Sunrise, then call Giving A Dog A Bone today at (772) 600-8435 or visit our contact page.