We all have an undying affection for our canine companions. Their unwavering devotion brightens even the dullest days. However, at times, our four-legged pals might struggle with proper behavior. Each dog possesses a distinct personality, and their behavioral challenges can arise from various triggers – be it a specific object or environment. This is where Giving a Dog a Bone comes into play as your ultimate solution! Our expertise ensures that your beloved pet graduates from our training program with impeccable commands and a host of valuable skills. Whether your furry friend is a playful pup or a wise old-timer, our diverse range of dog training options in Wellington, Florida, caters to every behavior type and age group. We're here to shatter the myth that you can't teach an old dog new tricks.
When it comes to instructing a young pup in the basics or guiding a mature dog toward better manners, enlisting the services of a professional dog trainer is a wise choice. The expertise of a dog training professional ensures that your furry friend adheres to a consistent training regimen, enhancing their ability to retain and apply the lessons learned. In Wellington, Florida, Giving a Dog a Bone stands as a beacon of excellence in the realm of dog training. Our facility boasts a team of seasoned dog training experts who are dedicated to shaping your dog's behavior and manners. Rest assured, your cherished companion will leave our care with improved conduct and refined etiquette. Our diverse training levels are tailored to your dog's unique requirements.
Leaders in New Dog Training in Wellington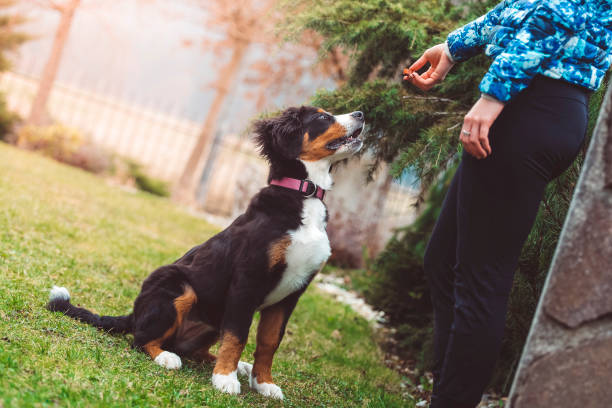 When seeking assistance for your dog's behavioral needs, thorough research is essential before making a decision on a dog trainer. Confidence in the chosen trainer is crucial, and that's where Giving a Dog a Bone comes in. Our team comprises skilled professionals who possess the necessary expertise and qualifications to effectively handle and train dogs. By selecting Giving a Dog a Bone, you're enlisting the help of dedicated trainers committed to providing your furry friend with the time and training they rightly deserve. Our trainers are not only fully qualified but also deeply passionate about their work. They are driven by the desire to witness your dog's transformation into the best possible version of themselves. Each dog entrusted to our care receives undivided attention and a tailored training regimen. We ensure that they master essential commands like walking and sitting, enabling them to exhibit well-mannered behavior, whether at home or out and about.
Qualified Wellington Dog Trainers for Young Dogs
Training dogs professionally is a challenging endeavor, requiring expertise and dedication. Not all dog lovers possess the time, skills, or patience needed for effective training. Successful dog training encompasses a deep understanding of pet care, dog walking, and hands-on training know-how. Equally vital are skills in pet CPR and proper animal first aid, essential in case of any unforeseen emergencies. Trusting your beloved dog's training to capable hands is paramount.
These qualifications are universally crucial for any pet trainer, demonstrating their commitment to the well-being of animals. A competent dog trainer should boast significant experience in both canine behavior and training methodologies, while also being equipped to respond effectively to medical emergencies. At Giving a Dog a Bone, such requirements are not just met but exceeded. Among our esteemed trainers is Joe Butler, a certified professional adept in Pet First Aid and CPR through PetTech. Additionally, our co-owner and trainer, Victoria Butler, holds a certification in Pet First Aid and CPR from Harmony Animal Hospital. Trusting Giving a Dog a Bone ensures your dog is tutored by experts who go above and beyond, making certain your furry friend's behavior aligns with your aspirations.
Traits for the Best Dog Trainers
Choosing a dog trainer who is genuinely dedicated to enhancing your dog's skills can truly transform your training sessions. The process of dog training delves much deeper than meets the eye, requiring more than just the right certifications and technical expertise. Opting for a seasoned professional who possesses a wealth of experience and a genuine passion for their work is always the optimal path to take. When a trainer exudes enthusiasm and positivity, your furry friend is far more inclined to eagerly participate and learn.
Look no further than Giving a Dog a Bone for the most highly qualified and compassionate team members and trainers in Wellington. Their unmatched devotion to animals and unwavering commitment to helping your dog evolve into the ultimate companion sets them apart. Count on the dedicated professionals at Giving a Dog a Bone to deliver top-notch dog training services in Wellington that truly make a difference. Your furry friend is in the best of hands with their skilled trainers.
Giving a Dog a Bone Wants to Train Your Dog
If you're looking for beginner dog training in Wellington, look no further than Giving a Dog a Bone. You and your dog will receive high-quality and professional dog training services from certified trainers. There's no better place in Palm Beach County to have your dog trained. If you want the best for your pet and strongly effective dog training services in Wellington, then call Giving A Dog A Bone today at (772) 600-8435 or visit our contact page.