Dog Crate Training in Deerfield Beach
Giving a Dog a Bone is the destination for expert dog crate training services in Deerfield Beach, Florida. We understand the significance of crate training in nurturing well-behaved dogs while deterring destructive behaviors. Our team of highly skilled trainers employs positive reinforcement techniques to instill a genuine love for crates in your furry companion, establishing it as a safe area for them to rest. We take a personalized approach to training, tailoring our methods to cater to the unique needs and personality traits of each dog, ensuring optimal results.
Our trainers possess a deep understanding of dog behavior and training techniques acquired through years of experience. We acknowledge that each dog has unique requirements and preferences, which is why we take the time to get to know your furry companion personally. This enables us to provide customized training programs that are tailored to meet their specific needs. Our dedication to individualized attention ensures that your dog receives the best care and guidance throughout the crate training process.
We understand that crate training can be a challenging endeavor, both for you and your dog. That's why our commitment to exceptional customer service extends beyond the training sessions. Our friendly and approachable staff is always available to answer your questions, provide guidance, and offer support at every step of the way. We want you to feel comfortable and confident throughout the training process, knowing that you have a dedicated team behind you.
We are committed to helping you cultivate a healthy and harmonious relationship, and we firmly believe that crate training is a vital tool in achieving that goal. Our trainers are not only passionate about dogs but also dedicated to your success. With our unwavering commitment to excellence and our expertise in dog crate training, you can trust us to provide the highest level of care for your beloved pet.
Leaders in Dog Training in Deerfield Beach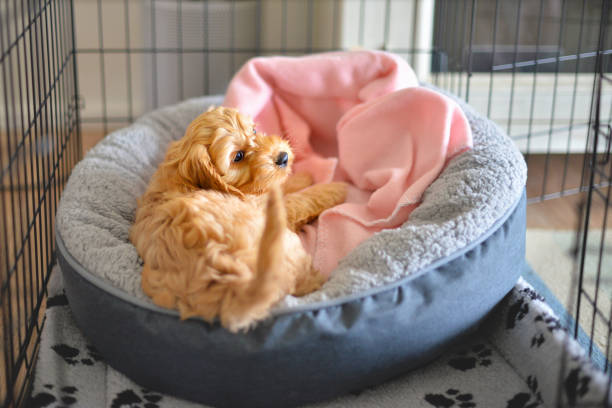 Dog owners in Deerfield Beach can rely on Giving a Dog a Bone for comprehensive and effective dog crate training solutions. Our specialized approach focuses on creating a positive association between dogs and their crates, fostering a sense of comfort and tranquility. By implementing personalized training techniques and emphasizing positive reinforcement, our skilled trainers ensure that dogs of all backgrounds and temperaments learn to embrace their crates as their own personal haven.
Our skilled trainers possess a deep understanding of canine behavior and utilize positive reinforcement techniques to create a nurturing environment for dogs to embrace their crates. By focusing on individualized training plans and addressing the specific needs of each dog, we ensure optimal results and a positive learning experience.
Qualified Deerfield Beach Dog Trainers
Giving a Dog a Bone in South Florida offers top-notch dog crate training services in Deerfield Beach. Joe and Victoria Butler are seasoned pet owners and trainers who are dedicated to fostering a strong bond between dogs and their owners. With a combined experience of over 30 years in dog training, Joe and Victoria have honed their skills and developed a training philosophy centered around positive reinforcement and effective techniques to unlock every dog's full potential.
Joe Butler, a PetTech-certified instructor in pet first aid and CPR, prioritizes the safety and well-being of every dog entrusted to him. Rest assured that your four-legged friend will be in capable hands, receiving the utmost care and security. Meanwhile, Victoria Butler holds certification from Harmony Animal Hospital in emergency pet first aid and CPR, specializing in addressing behavioral issues in dogs. Her patient and empathetic approach to training has transformed numerous dogs and their owners' lives, overcoming various challenges along the way.
Experience the exceptional dog crate training services offered by Giving a Dog a Bone in Deerfield Beach. Joe and Victoria Butler are committed to helping your beloved pet achieve their training goals. With their extensive knowledge and expertise, they have successfully transformed countless dogs into well-mannered and obedient companions. When you choose Giving a Dog a Bone, you're choosing a team that understands the unique needs of each dog and goes above and beyond to ensure its success.
Traits of the Best Dog Trainer
Giving a Dog a Bone understands the challenges pet owners face when it comes to crate training their dogs in Deerfield Beach. Our top priority is to provide effective and reliable crate training solutions, and that's why we collaborate with the finest dog trainers in the area. We believe that crate training plays a vital role in ensuring the safety and well-being of your beloved furry companion. With our commitment to excellence, we offer access to a network of skilled and dedicated trainers who are passionate about helping dogs thrive. When you choose our services, you can rest assured that your dog is in capable hands and will receive the highest quality training tailored to their needs. Start your dog's journey towards a well-behaved and happy life by taking advantage of our superior crate training services in Deerfield Beach.
Giving a Dog a Bone Wants to Train Your Dog
If you're looking for dog training in Deerfield Beach, look no further than Giving a Dog a Bone. You and your dog will receive high-quality and professional dog training services from certified trainers. There's no better place in Deerfield Beach to have your dog trained. If you want the best for your pet and strongly effective dog training services in Deerfield Beach, then call Giving A Dog A Bone today at (772) 600-8435 or visit our contact page.