Dog Crate Training in Hollywood
Giving a Dog a Bone is the best choice for effective and professional dog crate training in Hollywood, Florida. We understand the importance of crate training in shaping your dog's behavior and ensuring a strong connection between you and your furry companion. Our dedicated team of experienced trainers uses positive reinforcement techniques to make crate training a positive and rewarding experience for your dog, instilling good behaviors and minimizing destructive behavior. We take pride in our personalized approach, considering your dog's unique needs and personality traits to deliver outstanding results.
Our trainers have plenty of experience in dog behavior and training, having successfully worked with various breeds and age groups. You can always be confident that your dog is in capable hands. We are committed to building a solid foundation of trust and understanding between you and your pet, creating a positive learning environment. Whether your dog is a puppy or a senior, our trainers will create a customized training program to meet their specific needs, ensuring a seamless crate training journey.
We understand that crate training can be a challenging process, both for you and your dog. That's why we prioritize dedicated customer service and support throughout the entire training process. Our staff is always available to address your concerns, answer your questions, and provide guidance whenever you need it. We strive to create a warm and welcoming atmosphere where you and your dog feel comfortable and supported. Your satisfaction is our priority, and we are dedicated to establishing a strong relationship with you and your furry friend.
Your furry friend holds a special place in your life, and we are passionate about helping you foster that bond through effective crate training. Our dedicated trainers are driven by a genuine love for dogs and a desire to see them thrive. With our unwavering commitment to excellence and extensive experience in dog crate training, you can trust Giving a Dog a Bone to provide unparalleled care for your cherished pet.
Leaders in Dog Training in Hollywood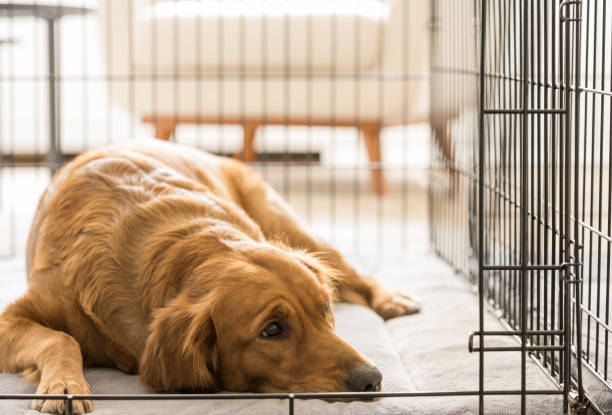 Giving a Dog a Bone is the go-to destination for dog crate training in Hollywood, South Florida. We take immense pride in our team of expert trainers who have successfully trained dogs to embrace their crates as secure and cozy retreats. Our personalized training methods employ positive reinforcement, ensuring that each dog feels at ease and content within their crate. We also work closely with dog owners, enlightening them about the numerous benefits of crate training and offering guidance on how to maintain their dog's progress at home. When it comes to dog crate training in Hollywood, Giving a Dog a Bone stands as an unparalleled choice, driven by a remarkable success rate and an unwavering dedication to excellence.
Qualified Hollywood Dog Trainers
Joe and Victoria Butler are seasoned pet owners with a shared passion for strengthening the bond between dogs and their owners. With an impressive 30 years of combined experience in dog training, they have honed their skills and developed a training philosophy that focuses on positive and effective methods, guaranteeing remarkable results for every furry companion.
Safety is a top priority at Giving a Dog a Bone. Joe Butler, a certified PetTech instructor in pet first aid and CPR, ensures that every dog under his care is provided with a secure and nurturing environment. His unwavering commitment to pet safety sets him apart. On the other hand, Victoria Butler is a Harmony Animal Hospital-certified specialist in emergency pet first aid and CPR, specializing in working with dogs facing behavioral challenges. Her compassionate and patient approach to training has transformed the lives of numerous dogs and their owners.
Whether you have a playful puppy or a mature adult dog, Giving a Dog a Bone offers tailored dog crate training programs that suit dogs of all ages. Joe and Victoria understand that each dog has unique requirements, and they adapt their training methods accordingly. From instilling good behavior to promoting obedience, they have the expertise to transform your furry friend into a well-mannered and obedient companion. If you're seeking the best dog crate training in Hollywood, look no further than Giving a Dog a Bone.
Traits of the Best Dog Trainer
At Giving a Dog a Bone, we understand the challenges that come with crate training and the importance of finding the right professionals to assist you. As a leading dog training company in Hollywood, we have partnered with a team of experienced and knowledgeable trainers who specialize in crate training. We recognize that crate training plays a crucial role in ensuring your pet's safety and overall well-being. Our commitment lies in connecting you with the most skilled and dedicated trainers in the area, so you can rest assured that your dog is in capable hands.
Giving a Dog a Bone Wants to Train Your Dog
If you're looking for dog training in Hollywood, look no further than Giving a Dog a Bone. You and your dog will receive high-quality and professional dog training services from certified trainers. There's no better place in Hollywood to have your dog trained. If you want the best for your pet and strongly effective dog training services in Hollywood, then call Giving A Dog A Bone today at (772) 600-8435 or visit our contact page.