Dog Crate Training in Lake Park
Giving a Dog a Bone is the go-to destination for exceptional dog crate training in Lake Park, South Florida. We take immense pride in our ability to provide high-quality training services that prioritize the well-being and development of your furry friends. Crate training plays a vital role in shaping your dog's behavior, and our experienced trainers are well-versed in the intricacies of this technique. By employing positive reinforcement methods, we help your dog embrace their crate as a safe and comfortable space tailored specifically to their needs.
Our team of trainers comprises true experts in the field of dog behavior and training. With a wealth of experience working with dogs of varying ages, from the youngest pups to the most senior companions, we understand the nuanced needs of every canine. We approach each dog with personalized attention, taking the time to familiarize ourselves with its distinct requirements. This personalized approach ensures that your furry friend receives training that is tailored to their specific needs, guaranteeing optimal results.
We understand that crate training can be a daunting task for dog owners. That's why our customer service goes above and beyond to provide unwavering support and assistance throughout the entire process. Our team of friendly and well-informed staff members are dedicated to ensuring that you feel fully equipped and confident in your crate training journey. We are committed to building strong, lasting relationships with our valued clients and their furry companions, guaranteeing a smooth and satisfying experience.
Your dog holds a special place in your family, and we share your dedication to fostering a harmonious and joyful relationship. Our mission at Giving a Dog a Bone is to provide the highest standard of care and support in helping you achieve that goal. We firmly believe that crate training is an invaluable component of building a strong foundation, and our trainers are deeply passionate about facilitating this transformative process. Rest assured, with our unwavering commitment to excellence and our extensive knowledge in dog crate training, we are fully equipped to deliver outstanding outcomes.
Leaders in Dog Training in Lake Park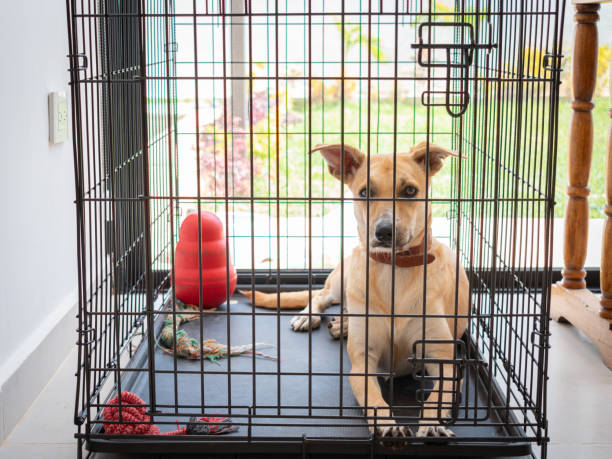 Giving a Dog a Bone is your go-to destination for top-notch dog crate training in Lake Park. We take pride in our team of experienced trainers who possess a wealth of knowledge and expertise in crate training. No matter the unique requirements of your dog, we can tailor our training methods to ensure their utmost safety and comfort. Through positive reinforcement techniques, we empower dogs to embrace their crates as a secure and enjoyable space.
Dog crate training is a game-changer in the world of dog ownership, and Giving a Dog a Bone is here to make it a breeze for you and your furry companion. Our team of dedicated trainers understands the positive impact crate training can have on dogs. From reducing anxiety to creating a safe haven, our personalized approach ensures that your dog thrives in their crate. We are committed to equipping dog owners in Lake Park with the necessary skills to continue their dog's progress beyond our training sessions.
Qualified Lake Park Dog Trainers
At Giving a Dog a Bone, we are proud to be the leading dog crate training service in Lake Park. Our dedicated team of experts, led by Joe Butler and Victoria Butler, is committed to helping dogs and their owners establish a strong bond and achieve remarkable progress. With over 30 years of combined experience in dog training, we have developed effective and positive training techniques that yield exceptional results for your beloved pet.
Joe Butler, a renowned certified PetTech instructor for pet first aid and CPR, ensures that every dog entrusted to our care receives a safe and secure environment during their training sessions. Victoria Butler, on the other hand, holds a certification in emergency pet first aid and CPR from Harmony Animal Hospital. With her extensive expertise in addressing behavioral issues in dogs, she brings a compassionate and patient approach to each training session. Together, as a dynamic duo, Joe and Victoria offer an unparalleled dog crate training experience in Lake Park for both you and your furry companion.
Traits of the Best Dog Trainer
At Giving a Dog a Bone, we recognize the significance of crate training in ensuring your dog's safety and happiness. That's why we have partnered with the finest trainers in Lake Park who possess the necessary qualities for successful training. Our primary goal is to offer access to highly qualified and dedicated trainers who excel in crate training. By choosing our services, you can have peace of mind knowing that your dog is in capable hands and will receive top-notch training from our esteemed network of experts. Allow us to assist you in providing your dog with the best possible foundation in life through our exceptional crate training services.
Giving a Dog a Bone Wants to Train Your Dog
If you're looking for dog training in Lake Park, look no further than Giving a Dog a Bone. You and your dog will receive high-quality and professional dog training services from certified trainers. There's no better place in Lake Park to have your dog trained. If you want the best for your pet and strongly effective dog crate training services in Lake Park, then call Giving A Dog A Bone today at (772) 600-8435 or visit our contact page.