Dog Crate Training in Loxahatchee
Giving a Dog a Bone is a reputable dog training company in Loxahatchee that specializes in professional and effective dog crate training services. We recognize the significance of crate training in fostering well-behaved dogs and curbing destructive behaviors. Our team of highly skilled trainers employs positive reinforcement techniques to ensure that your dog develops a positive association with their crate, considering it as their own safe and comfortable space. We understand that each dog has unique needs and personalities, and our training methods are tailored accordingly to guarantee their success.
With years of experience catering to dogs of all ages, from energetic puppies to wise seniors, our trainers have honed their skills to perfection. We recognize that every dog is unique, and that's why we take the time to comprehend your dog's temperament, habits, and learning style. This allows us to provide customized training sessions that are tailored precisely to meet your dog's needs. Rest assured that your furry companion will receive the utmost care and attention from our dedicated trainers.
At Giving a Dog a Bone, we go above and beyond to ensure that your dog receives exceptional care and training. We understand the profound impact a well-trained dog can have on your family life, and we are here to make that a reality. Our trainers possess a wealth of knowledge in dog crate training and are relentless in their pursuit of excellence. Trust us to provide remarkable results and help you create a happy, healthy, and harmonious relationship with your four-legged companion.
Leaders in Dog Training in Loxahatchee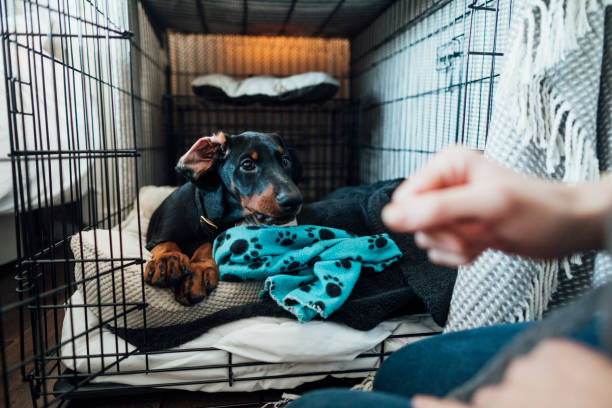 At Giving a Dog a Bone, we take great pride in our exceptional dog crate training services, specifically tailored to pet owners in Loxahatchee. Our team of highly skilled trainers possesses extensive experience working with dogs of all ages, sizes, and breeds, enabling us to create a safe and cozy environment within their crates.
Recognizing the paramount importance of dog crate training, we strive to deliver outstanding results that benefit both dogs and their owners alike. Employing positive reinforcement techniques, we customize our training methods to address the unique needs of each individual dog, ensuring their sense of security and comfort in their crates. Moreover, we prioritize educating owners about the numerous advantages of crate training and providing them with the knowledge necessary to maintain their dog's progress within the confines of their homes. With an unwavering commitment to excellence and a track record of successful outcomes, it's no wonder we're the go-to choice for dog crate training in Loxahatchee.
Qualified Loxahatchee Dog Trainers
At Giving a Dog a Bone, we are proud to be the leading experts in dog crate training in Loxahatchee. As the trusted dog training service in the area, we are dedicated to helping dogs and their owners establish a strong bond and achieve remarkable results. With a wealth of experience spanning over 30 years, our founders, Joe Butler, and Victoria Butler, have honed their skills to create effective and positive training methods tailored to each individual dog's needs.
When it comes to your dog's safety, Joe Butler is a certified PetTech instructor for pet first aid and CPR, ensuring that every dog entrusted to our care receives a secure and protected environment. Victoria Butler brings her expertise in emergency pet first aid and CPR, obtained from Harmony Animal Hospital, to provide the highest level of care for your furry companion. Her extensive experience in working with dogs with behavioral issues allows her to approach every training session with compassion and patience.
Traits of the Best Dog Trainer
Crate training can sometimes feel overwhelming, but at Giving a Dog a Bone, we've got you covered. Our team has partnered with the most skilled trainers in Loxahatchee who possess the expertise needed to make crate training a seamless and successful experience for you and your dog. We firmly believe in the importance of crate training for your furry friend's overall well-being and contentment. That's why we have established a network of trusted and qualified trainers who are committed to providing exceptional services. When you choose us, you can trust that your dog will receive top-notch training from professionals who genuinely care. Give your dog the best start in life with our premium crate training services tailored to meet your specific needs.
Giving a Dog a Bone Wants to Train Your Dog
If you're looking for dog training in Loxahatchee, look no further than Giving a Dog a Bone. You and your dog will receive high-quality and professional dog training services from certified trainers. There's no better place in Loxahatchee to have your dog trained. If you want the best for your pet and strongly effective dog training services in Loxahatchee, then call Giving A Dog A Bone today at (772) 600-8435 or visit our contact page.