Dog Crate Training in Port St Lucie
Giving a Dog a Bone is the ultimate destination for dog owners seeking top-notch dog crate training in Port St Lucie. We firmly believe in the importance of crate training as a vital aspect of a dog's development. By instilling good behavior and curbing destructive tendencies, we ensure your furry companion grows into a well-behaved and contented member of your family. Our team of experienced trainers possesses an in-depth understanding of dog behavior, enabling us to cater to dogs of all ages, ranging from playful puppies to wise seniors. With our personalized approach, we take the time to comprehend your dog's unique requirements and design a training program that will yield optimal results.
Our team of trainers comprises seasoned experts in the field of dog behavior and training. They boast an extensive track record of working with dogs of all ages and backgrounds, from energetic puppies to wise senior canines. We understand the significance of personalization, and that's why we invest time and effort into comprehending your dog's unique traits and requirements. This enables us to deliver tailored training sessions that maximize their potential. With us, your dog will receive unrivaled care and attention, ensuring their development and success in crate training.
We acknowledge that crate training can be a daunting endeavor for both pet owners and their beloved companions. That's why our unwavering commitment to unparalleled customer service sets us apart. Our dedicated team is here to assist you at every stage of the journey, ensuring a seamless and fulfilling experience. With our friendly and experienced staff, you can rely on us to address your concerns, provide valuable insights, and guide you throughout the crate training process. Rest assured, we are fully devoted to building lasting relationships with our clients and their furry family members.
We firmly believe that your dog is not just a pet but an indispensable member of your family. Our mission is to assist you in cultivating a harmonious and fulfilling relationship with your furry companion. By embracing crate training as a fundamental tool, we empower dogs to become well-adjusted and contented family members. Our dedicated trainers are genuinely passionate about the welfare of dogs and their owners. Through our unwavering commitment to excellence, we strive to provide the utmost care and support. Trust us to unlock the full potential of your dog and create a lasting bond between you and your loyal companion.
Leaders in Dog Training in Port St Lucie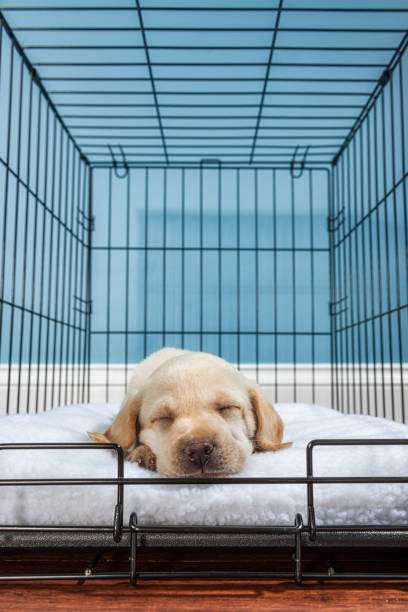 At Giving a Dog a Bone, we understand the importance of dog crate training in Port St Lucie. Our experienced trainers are committed to delivering top-notch services tailored to the unique needs of each dog. We prioritize positive reinforcement methods to ensure a rewarding training experience. With our expertise and personalized approach, we help dogs feel secure and at ease in their crates.
We firmly advocate for dog crate training in Port St Lucie as it enhances the bond between dogs and their owners. Our trainers emphasize positive reinforcement techniques to create a trusting and cooperative relationship. By customizing our training methods to suit each dog's individual needs, we ensure they feel secure and comfortable in their crates. We also provide comprehensive guidance to owners, enabling them to support their dogs' training journey outside of our sessions.
Qualified Port St Lucie Dog Trainers
Giving a Dog a Bone is your go-to destination for exceptional dog crate training in Port St Lucie. We pride ourselves on being a trusted and reliable dog training service, dedicated to helping dogs and their owners establish a strong bond and achieve their full potential. Led by Joe Butler and Victoria Butler, our team brings over 30 years of combined experience in the field, ensuring that your furry friend receives the highest level of care and training.
Joe Butler, a certified PetTech instructor specializing in pet first aid and CPR, guarantees that every dog at Giving a Dog a Bone receives the highest standard of care and safety. We understand the importance of your dog's well-being, and we go above and beyond to create a secure environment for their training sessions. Victoria Butler, certified in emergency pet first aid and CPR by Harmony Animal Hospital, brings her extensive experience in dealing with dogs with behavioral challenges. Her compassionate and patient approach ensures that your furry companion receives personalized attention and effective training solutions.
Traits of the Best Dog Trainer
Giving a Dog a Bone recognizes the importance of dog crate training in Port St Lucie, and we are committed to making the process seamless and rewarding for both you and your beloved pet. Our dedicated team consists of skilled trainers who possess the expertise and compassion needed to deliver exceptional crate training results. We firmly believe that crate training plays a vital role in ensuring your dog's well-being, security, and overall happiness. By choosing to partner with us, you gain access to a carefully selected network of trainers in Port St Lucie who are passionate about providing top-tier training services. Rest assured, your dog will receive the highest standard of care and instruction, setting them on the path to a fulfilling and well-behaved life.
Giving a Dog a Bone Wants to Train Your Dog
If you're looking for dog training in Port St Lucie, look no further than Giving a Dog a Bone. You and your dog will receive high-quality and professional dog training services from certified trainers. There's no better place in Port St Lucie to have your dog trained. If you want the best for your pet and strongly effective dog training services in Port St Lucie, then call Giving A Dog A Bone today at (772) 600-8435 or visit our contact page.