Dog Crate Training in Sebastian
Giving a Dog a Bone is the go-to destination for exceptional dog crate training in Sebastian. We firmly believe in the significance of crate training in a dog's overall development and are dedicated to assisting dog owners in achieving the desired outcomes. Our team of seasoned trainers possesses extensive expertise in canine behavior and training, having worked with dogs of all ages and backgrounds. We recognize that each dog necessitates individualized attention, which is why we invest time in understanding your furry companion to deliver customized training programs tailored to their specific requirements. Rest assured that your dog will receive unparalleled care and attention under our guidance.
When it comes to dog crate training in Sebastian, we are committed to being there for you every step of the way. Our dedicated team of professionals is passionate about helping you and your dog achieve success. Whether you have concerns, need advice, or require assistance, our reliable staff members are here to lend a helping hand. Your satisfaction is our priority, and we work tirelessly to ensure that you and your furry companion have a positive and fulfilling training experience.
We understand the deep bond between you and your furry family member, and our mission is to strengthen that bond through effective crate training. Our trainers bring unmatched expertise and a genuine love for dogs to every session. We go above and beyond to ensure that your pet receives the best possible care and training. When you choose Giving a Dog a Bone, you can trust us to deliver outstanding results and help you create a happy, healthy, and well-behaved dog that enriches your life.
Leaders in Dog Training in Sebastian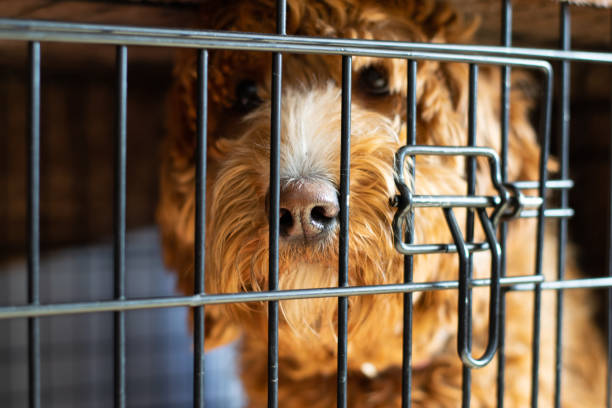 Giving a Dog a Bone is the leading provider of exceptional dog crate training services in Sebastian. Our team of highly skilled trainers is dedicated to assisting pet owners in teaching their dogs the invaluable skill of crate training. Whether your dog is a playful puppy, a stubborn adolescent, or a mature adult, our trainers have the expertise to create a safe and comfortable environment within their crates.
We firmly believe that dog crate training plays a vital role in dog ownership, offering numerous benefits for both dogs and their owners. At Giving a Dog a Bone, our training approach revolves around positive reinforcement techniques tailored to address the specific needs of every individual dog. By focusing on building trust, providing structure, and promoting positive associations, we ensure that dogs feel secure and at ease in their crates. Our trainers also prioritize educating owners about the advantages of crate training and equipping them with the knowledge to sustain their dog's progress at home. As unrivaled experts in dog crate training in Sebastian, we guarantee exceptional results and a transformative experience for both dogs and their owners.
Qualified Sebastian Dog Trainers
At Giving a Dog a Bone, we are dedicated to providing exceptional dog crate training services in Sebastian. Our team of highly trained professionals understands the importance of a strong bond between dogs and their owners. With our expertise and passion for dog training, we strive to help your furry friend reach their full potential and create a harmonious relationship.
Led by Joe Butler and Victoria Butler, our experienced founders bring over 30 years of combined experience in dog training. Joe Butler is not only a skilled trainer but also a certified PetTech instructor for pet first aid and CPR. This ensures that every dog under our care receives a safe and secure environment throughout the training process. Victoria Butler, on the other hand, holds a certification in emergency pet first aid and CPR from Harmony Animal Hospital. Her extensive experience in working with dogs with behavioral issues allows her to approach training sessions with compassion and patience.
Traits of the Best Dog Trainer
Giving a Dog a Bone recognizes the importance of dog crate training and the challenges it may pose to pet owners. As a leading dog training company serving Sebastian and the surrounding areas, we are committed to providing exceptional solutions for crate training that guarantee the well-being and happiness of your beloved furry companion. Our team is comprised of highly skilled trainers who possess the expertise and passion necessary to deliver effective and personalized crate training services.
Giving a Dog a Bone Wants to Train Your Dog
If you're looking for dog training in Sebastian, look no further than Giving a Dog a Bone. You and your dog will receive high-quality and professional dog training services from certified trainers. There's no better place in Sebastian to have your dog trained. If you want the best for your pet and strongly effective dog training services in Sebastian, then call Giving A Dog A Bone today at (772) 600-8435 or visit our contact page.