Dog Crate Training in Stuart
At Giving a Dog a Bone, we're committed to providing top-notch dog crate training services in Stuart. We firmly believe that crate training is an integral part of a dog's upbringing, instilling healthy habits while minimizing harmful behavior. Our skilled trainers use positive reinforcement techniques to teach your dog to love their crate and consider it as their personal haven. We prioritize the unique requirements and personalities of each dog, ensuring a tailored approach to their training, which guarantees their success.
Our team of expert trainers has years of experience in dog behavior and training. We've worked with a diverse range of dogs, from young pups to senior canines, and we fully understand that each dog has its specific needs and preferences. We take the time to acquaint ourselves with your dog's unique personality, and we provide personalized training that caters to their individual requirements. With our expertise, you can have peace of mind that your furry companion is receiving the best possible care and attention.
At Giving a Dog a Bone, we're fully aware that crate training can be a challenging process for both you and your dog. Therefore, we offer exceptional customer service to support you throughout the training process. Our friendly and knowledgeable staff is always available to answer your queries and provide guidance, ensuring you're confident and supported every step of the way. We're committed to building strong relationships with our clients and their pets, and we'll do everything within our power to ensure your satisfaction.
We appreciate that your furry friend is a valued member of your family, and we're dedicated to helping you establish a happy and healthy relationship with them. At Giving a Dog a Bone, we believe that crate training is an indispensable tool for achieving this goal. Our trainers are passionate about helping dogs and their owners, and we'll work tirelessly to ensure your success. With our commitment to excellence and expertise in dog crate training, you can trust us to provide the best possible care for your furry friend in Stuart.
Leaders in Dog Training in Stuart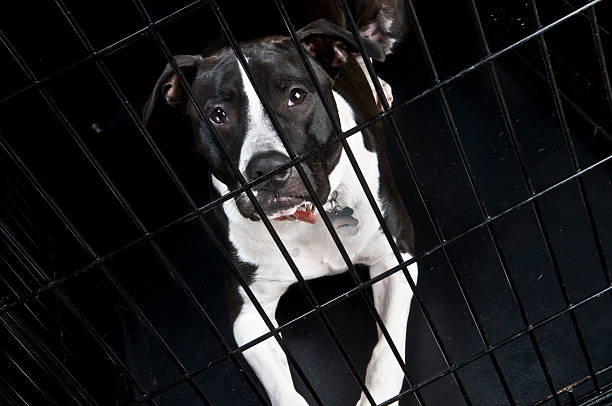 Giving a Dog a Bone is the go-to source for dog crate training in Stuart. Our skilled trainers have worked with countless dogs of all breeds, ages, and sizes, teaching them how to use their crates as a safe and cozy haven.
We firmly believe that dog crate training is an essential part of responsible dog ownership, providing numerous benefits to both the dog and the owner. Our training techniques are customized to meet each dog's unique needs and are based on positive reinforcement, ensuring that they feel secure and comfortable in their crate. We also work closely with owners to ensure they understand the benefits of crate training and how to continue their dog's progress at home. With our track record of success and unwavering commitment to excellence, Giving a Dog a Bone is the top choice for dog crate training in Stuart.
Qualified Stuart Dog Trainers
Giving a Dog a Bone is an esteemed dog training service in Stuart, founded by Joe Butler and Victoria Butler. With a combined experience of over 30 years in training dogs, Joe and Victoria have dedicated their lives to helping dogs and their owners build strong bonds and achieve their full potential. They utilize positive, encouraging, and effective training methods to bring out the best in every dog.
Joe Butler, a certified pet first aid and CPR instructor by PetTech, prioritizes safety above everything else. He ensures every dog under his care is in a secure environment. Victoria Butler, a certified emergency pet first aid and CPR provider by Harmony Animal Hospital, has a wealth of experience in working with dogs with behavioral issues. Her compassionate and patient approach is renowned in the industry. Together, they form a dynamic team of professionals who can provide the best dog training experience in Stuart for you and your furry friend.
Traits of the Best Dog Trainer
At Giving a Dog a Bone, we understand that finding a suitable trainer for your dog's crate training can be an arduous task. That's why we've partnered with only the best trainers in Stuart, who embody the qualities that we believe are crucial for effective crate training. We firmly believe that crate training is the key to ensuring your dog's safety and happiness, and we're committed to providing our customers with access to the most qualified and devoted trainers in the area. By working with us, you can rest assured that your furry friend is receiving the highest quality training possible. Let us help you give your dog the best possible start in life by providing exceptional crate training services through our trusted network of expert trainers.
Giving a Dog a Bone Wants to Train Your Dog
If you're looking for dog training in Stuart, look no further than Giving a Dog a Bone. You and your dog will receive high-quality and professional dog training services from certified trainers. There's no better place in Stuart to have your dog trained. If you want the best for your pet and strongly effective dog training services in Stuart, then call Giving A Dog A Bone today at (772) 600-8435 or visit our contact page.