Dog Crate Training in Vero Beach
Giving a Dog a Bone is a leading provider of dog crate training services in Vero Beach, Florida. Our mission is to help your canine companion's development by instilling positive behaviors and curbing destructive tendencies through crate training. Our team of experienced trainers implements effective positive reinforcement techniques to create a loving bond between your dog and their crate, establishing it as a secure and cozy space. We take a personalized approach to training, considering the unique needs and personality traits of each dog, ensuring optimal results.
We acknowledge that crate training can be a challenging process, both for pet owners and their dogs. That's why our dedicated team at Giving a Dog a Bone is committed to providing exceptional customer service to guide you through every step of the training journey. Our friendly and approachable staff is always available to address your questions and offer valuable guidance, ensuring that you feel supported and confident throughout the process. We value long-lasting relationships with our clients and their furry companions, and your satisfaction is our utmost priority.
At Giving a Dog a Bone, we truly comprehend the invaluable role that your furry companion plays in your life, and our aim is to help you cultivate a healthy and joyous bond with them. We firmly believe that crate training is an indispensable tool in achieving this goal. Our passionate trainers are dedicated to assisting both dogs and their owners, working tirelessly to ensure success. With our unwavering commitment to excellence and expertise in dog crate training, you can trust us to provide unparalleled care and support for your beloved pet.
Leaders in Dog Training in Vero Beach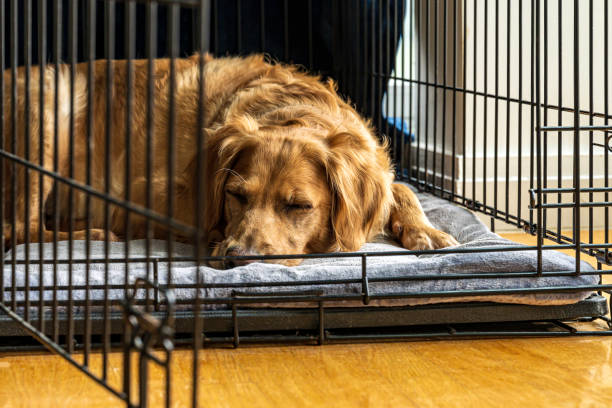 As advocates of responsible dog ownership, we firmly believe that dog crate training plays a crucial role in fostering a harmonious relationship between dogs and their owners. It offers numerous benefits for both parties involved. At Giving a Dog a Bone, our customized training methods revolve around positive reinforcement, ensuring that each dog feels at ease and content in their crate. Furthermore, we work closely with dog owners, imparting knowledge about the advantages of crate training and equipping them with the necessary tools to maintain their dog's progress within the comfort of their own home. With an outstanding success rate and an unwavering commitment to excellence, Giving a Dog a Bone is undoubtedly the premier choice for dog crate training in Vero Beach.
Qualified Vero Beach Dog Trainers
Looking to find top-notch dog crate training services in Vero Beach? Meet Joe and Victoria Butler, seasoned dog owners with an unwavering commitment to fostering strong bonds between dogs and their owners. With an impressive track record of over three decades in the field of dog training, they have crafted a training philosophy that prioritizes positive and effective training techniques, allowing every dog to unlock their true potential.
As a certified PetTech instructor specializing in pet first aid and CPR, Joe Butler is unwavering in his commitment to providing a safe and secure environment for every dog in his care. His dedication to pet safety is unparalleled, ensuring peace of mind for all pet owners. Victoria Butler, on the other hand, holds a certification from Harmony Animal Hospital in emergency pet first aid and CPR and specializes in addressing behavioral issues. Her compassionate and patient training approach has been instrumental in helping numerous dogs and their owners overcome various challenges.
Look no further than Giving a Dog a Bone if you're searching for the best dog crate training in Vero Beach. Joe and Victoria Butler's unwavering dedication to their craft, coupled with their ability to customize training methods for every dog, sets them apart in the industry. Allow them to guide you and your furry friend on a transformative journey toward achieving your dog's training goals. Trust Giving a Dog a Bone to deliver outstanding results, fostering a happy and well-behaved companion for life.
Traits of the Best Dog Trainer
At Giving a Dog a Bone, we understand the challenges that come with crate training your beloved pet. We recognize the importance of providing effective and reliable crate training solutions, which is why we have partnered with top-notch dog trainers in Vero Beach. Our team of experienced trainers possesses the necessary skills and expertise to ensure a successful crate training experience for your furry companion. We firmly believe that crate training is a crucial aspect of your dog's safety, well-being, and behavior development. By choosing our services, you can rest assured that your dog will receive exceptional training from our dedicated network of professionals. Trust us to give your furry friend the best possible start in life through our superior crate training services.
Giving a Dog a Bone Wants to Train Your Dog
If you're looking for dog training in Vero Beach, look no further than Giving a Dog a Bone. You and your dog will receive high-quality and professional dog training services from certified trainers. There's no better place in Vero Beach to have your dog trained. If you want the best for your pet and strongly effective dog training services in Vero Beach, then call Giving A Dog A Bone today at (772) 600-8435 or visit our contact page.