Dog Training in Coral Gables
At Giving a Dog a Bone, we believe in the unbreakable bond between humans and their furry companions. Our goal is to enhance this bond through our dog training program in Coral Gables, Florida. Our services cater to dogs of all ages and sizes, helping them learn basic commands, improve their behavior and become well-behaved in all situations. Whether it's behavioral issues or just some extra training, we're here to help you and your pup.
Our team of experienced trainers is passionate about helping dogs reach their full potential. We recognize that each dog is unique, with their own personality, strengths, and weaknesses, which is why we offer customized training plans tailored to the specific needs of each individual pup. Our trainers work closely with you to make sure your dog is learning and growing in the best way possible.
Our training program includes basic obedience training, such as sit, stay, come, and heel, as well as more advanced techniques like agility and tricks. We also address common behavioral issues such as separation anxiety, aggression, and barking. Our trainers use positive reinforcement methods to make training sessions enjoyable and engaging for both the dog and the owner.
We believe that it's never too late for a dog to learn new tricks, and our expert guidance and consistent training schedule can help your furry friend continue to grow and learn. Our trainers are available for ongoing support and guidance even after the training sessions end, ensuring your dog's skills are retained for the long term.
When you choose Giving a Dog a Bone, you can trust that your pet will leave with improved manners and better overall behavior. We are dedicated to helping dogs and their owners build stronger bonds and create happier, healthier relationships. If you're looking for real results from your dog's training, look no further. Contact us for all of your dog training needs and let us help your furry friend reach their full potential.
Leaders in Dog Training in Coral Gables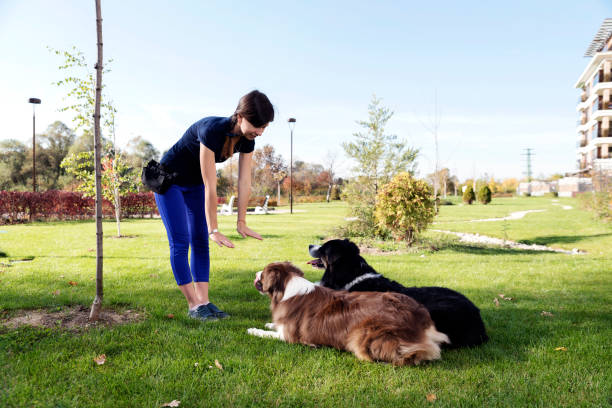 We understand the importance of selecting a trustworthy and qualified dog trainer for your furry friend. With your pet's well-being and behavior at stake, it's crucial to choose a professional that you can rely on. That's why we're proud of our team of highly trained and compassionate trainers, who are dedicated to providing personalized training and care to each dog in our care. Our trainers are skilled in teaching essential obedience commands, such as sitting, staying, and walking on a leash, but they also emphasize good manners and behavior in every dog they train. When you entrust your dog to us, you can be confident that they will receive not only valuable training but also the love and respect they deserve.
Qualified Coral Gables Dog Trainers
Training your furry friend is a delicate task that demands a great deal of expertise, persistence, and time. For pet owners who lack the proper skills and resources, it can be challenging to effectively train their dogs. That's where the experienced dog trainers at Giving a Dog a Bone come into play. Our trainers boast a comprehensive understanding of pet care, dog walking, and training methods. They are also certified in emergency pet first aid and CPR, ensuring that your dog is in safe hands during their training journey. Invest in professional training from Giving a Dog a Bone for the best outcome for your dog.
We're dedicated to providing your dog with the highest level of training. Our trainers, Joe Butler, and Victoria Butler are both certified in pet first aid and CPR by reputable organizations, PetTech and Harmony Animal Hospital respectively. Trust us to equip your dog with the necessary skills to thrive as a happy and well-behaved member of your family. Don't settle for anything less than the best for your dog – let the dog training specialists at Giving a Dog a Bone guide your dog on their path to success.
Traits of the Best Dog Trainer
When searching for a dog trainer, it's crucial to choose someone who is passionate about your pet's well-being and improvement. A dog's behavior cannot be changed solely through rewards or certificates, it takes a dedicated and experienced trainer to bring out the best in your pup. That's why the team at Giving a Dog a Bone in Coral Gables should be your go-to choice for dog training services. These trainers are not only knowledgeable but also have a genuine love for animals, ensuring that your furry friend will receive the best possible care. Whether you're a Coral Gables resident or just looking for quality dog training, Giving a Dog a Bone is a team to trust.
Giving a Dog a Bone Wants to Train Your Dog
If you're looking for dog training in Coral Gables, look no further than Giving a Dog a Bone. You and your dog will receive high-quality and professional dog training services from certified trainers. There's no better place in Coral Gables to have your dog trained. If you want the best for your pet and strongly effective dog training services in Coral Gables, then call Giving A Dog A Bone today at (772) 600-8435 or visit our contact page.