Train Your Dog in Lake Worth The Right Way
Dogs are often referred to as man's best friend for a good reason – they are loyal companions who show us unconditional love and affection. However, even the most well-behaved dogs can sometimes exhibit undesirable behaviors, especially in unfamiliar environments or around certain people. That's where Giving a Dog a Bone comes in. Located in Lake Worth, Florida, our dog training program is designed to help dogs of all sizes and ages learn the basic commands and manners they need to be well-behaved in any situation. We understand that it can be challenging to teach an old dog new tricks, but with our expert guidance and personalized training courses, we can help your furry friend learn and grow. Whether you're dealing with behavioral issues or just looking to give your dog a little extra training, we're here to help.
If you are in search of a professional dog training facility in Lake Worth, Florida, then look no further than Giving a Dog a Bone. Our team of highly qualified trainers is dedicated to helping both new puppies and older dogs learn basic commands and improve their behavior in various situations. We understand that each dog is unique, which is why we offer different levels of training to best suit the needs of your furry friend. With our consistent training schedule, your dog will not only learn valuable skills, but they will also retain this knowledge long after the training sessions have ended. When you choose to entrust your beloved pet to our care, you can have confidence that they will leave with improved manners and overall better behavior. So, if you want to see real results from your dog's training, don't hesitate to reach out to Giving a Dog a Bone for all of your dog training needs.
Leaders in Dog Training in Lake Worth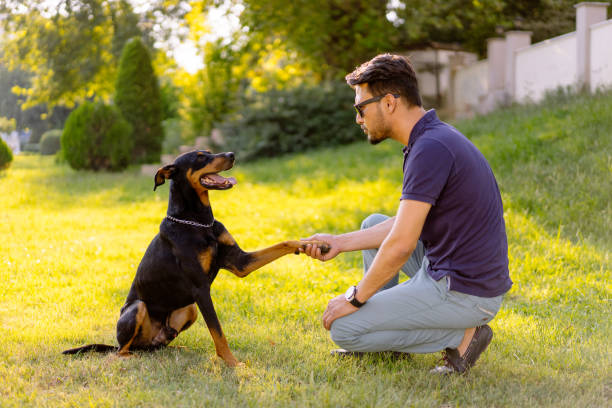 It is crucial to conduct thorough research before selecting a dog trainer to ensure that you are entrusting your furry friend to a professional and qualified individual or team. This is especially important because your dog's well-being and behavior are at stake, and you want to ensure that they are receiving the best possible training and care. At Giving a Dog a Bone, we pride ourselves on our team of highly trained and compassionate trainers who are dedicated to giving each and every dog in our care the individualized attention and time they deserve. Our trainers are not only skilled in teaching basic obedience commands such as sit, stay, and walk on a leash, but they also prioritize instilling good behavior and manners in every dog we train. When you choose us, you can have peace of mind knowing that your dog will not only learn valuable skills but will also be treated with the love and respect they deserve.
Qualified Lake Worth Dog Trainers
Properly training dogs is a challenging task that requires a great deal of knowledge, patience, and time. Many people love their dogs but may not have the skills or resources to properly train them. This is where certified dog trainers come in. A qualified dog trainer will have a deep understanding of pet care, dog walking, and training techniques. They should also be knowledgeable about pet CPR and animal first aid, in case of any serious medical emergencies. It is essential that your dog is trained by someone who is competent and able to handle any potential issues that may arise. 
Giving a Dog a Bone has trainers who are certified in pet first aid and CPR. Joe Butler, one of our trainers, has received certification from PetTech, while Victoria Butler, our other owner, and trainer, has been certified by Harmony Animal Hospital. Trust us to provide your dog with the professional training they need to become a well-behaved and happy member of your family. Don't leave your dog's training to anyone else – let the experts at Giving a Dog a Bone show your dog the right way to behave. 
Traits of the Best Dog Trainer
Choosing a dog trainer that wants to be there and wants to see your dog become more well-mannered will make all the difference in the world. Dog training goes much further than just giving a treat to the dog when they do something correctly. It takes more than having the right certifications and training. Training your dog with someone who is passionate and experienced will always be the right way to go. When a trainer is in high spirits, the dog will be much more willing to listen and learn. 
Giving a Dog a Bone has the best-qualified team members and trainers in all of Lake Worth. This is because they LOVE animals and always want to do their best to see your dog become a better companion. You can always count on the individuals from Giving a Dog a Bone to provide effective dog training for Lake Worth residents and their K9 best friends. 
Giving a Dog a Bone Wants to Train Your Dog
If you're looking for dog training in Lake Worth, look no further than Giving a Dog a Bone. You and your dog will receive high-quality and professional dog training services from certified trainers. There's no better place in Martin County to have your dog trained. If you want the best for your pet and strongly effective dog training services in Lake Worth, then call Giving A Dog A Bone today at (772) 600-8435 or visit our contact page.