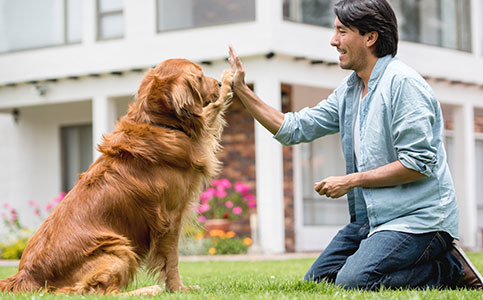 September 25, 2018 |
Dog owners who need a
dog training
service should choose Giving A Dog A Bone. Giving A Dog A Bone provides the best
dog training in Jupiter.
They have an experienced and educated staff who
are equipped
to teach any training class. One excellent service they provide to pet owners is dog training. Giving A Dog A Bone has a variety of training services that will benefit any dog.
There are several benefits to dog training that an owner should understand when enrolling their dog
. Some benefits include improved communication, management, socialization, and control and safety.
One excellent benefit of dog training is improvements in communication.
The owner will better understand the wants and needs of their dog which will result in a better response from the dog
. Giving A Dog A Bone's Well-Mannered class will help to improve communication. In this class, the dog should understand basic commands
in order to
participate
.
The well-mannered pooch class will improve a dog's behavioral skills and learn advanced commands.
Dog training will allow a dog to be more manageable. In order for a dog to become more manageable the Bare Essentials class at Giving A Dog A Bone is an excellent course. This basic dog training class will allow a dog to become more obedient and well rounded. This will result in better management and will allow a dog to be more
easily
controlled.
Simple acts such as greeting others
politely
and walking back when they
are called
are management skills that will be
greatly
improved
.
Another wonderful benefit of dog training is socialization and community growth. Socialization is an essential aspect of a dog's life.
Attending Giving A Dog A Bone training will allow a dog to behave
properly
in certain situations and will begin to feel more comfortable around other dogs
. The dog will learn how to socialize with other breeds and will not panic in various situations.
This will benefit the owner and the dog due to dealing with other dogs on a daily basis.
Putting a dog through one of Giving A Dog Bone's training programs will allow the owner to have more control and a sense of safety
. Training a dog will provide the tools to control a dog's actions and ensure that the dog will not run away. Chasing people or other dogs in a park can also
be corrected
with training commands.
Dog training is an essential process for a dog.
Giving A Dog A Bone's
dog training in Jupiter
provides various
dog training
classes that any dog will
benefit from
.
Our trained and qualified staff are both certified in Pet First Aid and CPR which allows them to
be prepared
for any training job
. Call us today at (561) 630-4846 to find out which dog training program is best!