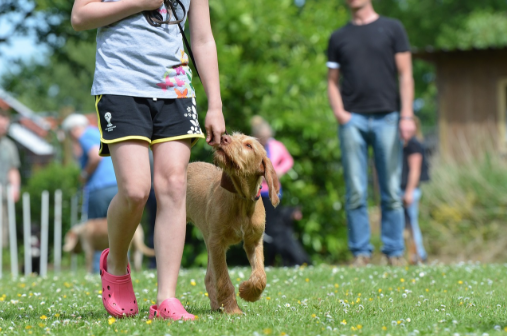 May 4, 2021 |
Spring is here, and you can tell the season has arrived by how excited your dog gets every time you go outside. From sniffing out those bunny tracks to exploring the blooming flowerbeds, there is always some type of adventure to enjoy for a puppy in the springtime. With the warm air's arrival, it is also a great time to burn off all of that puppy energy with a few well-planned trips outdoors. As you prep, your pup for their springtime fun, use these dog safety tips to keep them safe while planning exciting activities that keep them entertained.
Keep Your Dog Hydrated
Summer's hottest temperatures have yet to be reached, but that doesn't mean that your pup can't overheat. Very young dogs can become overheated quickly, and you might not notice until they refuse to walk another step. Make sure to carry extra water with you anytime you plan to spend time with your puppy outdoors. A good rule of thumb is to give them a drink every time you stop to take a sip. Then, be on the lookout for signs that your puppy is thirsty such as panting or stopping to lap up puddles on the trail.
The Warmer Months Bring Out the Pests
While your puppy is excited to be chasing butterflies, you should also be aware that this is the season when unwelcome critters tend to burst forth from their nests. Give your dog a good look during their grooming sessions to check for fleas and ticks. You may also talk to their vet about preventative medicines to keep fleas away. In addition to insects, be aware that snakes and other dangerous wildlife may be lurking in your yard or when you hit the wilderness trails. Always scan your walking path in unfamiliar areas, and keep your lawn short to deter wildlife from entering your yard.
Check Your Dog's Paws
While a dog's paws are tougher than the skin on their human companion's hands, they are still susceptible to damage from sharp objects or hot temperatures. Make sure to plan your walking routes carefully so that you can avoid potential dangers such as walking on rocky hot asphalt. You may also need to watch out for glass or sharp pebbles on wilderness trails. When the safety of your dog's paws is in doubt, consider rerouting or carry them past the danger. It is also helpful to use moisturizing paw balm or special dog boots that are designed for your walking area's terrain and weather.
Can Dogs Get Sunburn?
Yes, dogs can get sunburn. It is often an afterthought, but your pets can face the same effects from the sun that you can. You would think that with all that fur your pet would be safe from the sun. However, dogs can still get sunburns in any areas that are exposed to direct sunlight. Usually, these areas are around the ears and nose where hair tends to be thinner.
Use sunscreen designed for dogs every time you plan to go outside. Also, check them over for signs of sun damage during prolonged periods of time outside so that you can apply soothing medication if it is necessary. As the spring turns into summer, try to plan your outside time for the early morning and evening hours of the day when the sun tends to be less strong. Pay special attention to those long days at the beach or on hikes.
Make Sure Your Fence is Safe For Your Dog
A curious dog can quickly find their way out of any situation. Give your puppy play space a quick walk around, and make sure that there are not any areas that will allow an escape. If necessary, have holes in the ground filled in, and replace wooden slats on your fence. Even if you are outside with your pet most of the time, you want to make sure that they are safe if you have to run into your house for a minute.
Always check your fencing to prevent your dog from escaping. Getting your dog outside in the fresh air and warm spring sunshine is the perfect way to spend the day. As you pack your flying disc and put on their leash, keep in mind that staying safe will ensure that you get to spend many more fun days together. From hiking in the wilderness to romping with new doggie buddies in the dog park, get ready to reinforce those training lessons with some fun adventures this spring.
Looking to Hire A Certified Dog Trainer in Palm Beach County?
The professionals at Giving a Dog a Bone have provided their quality services to countless patrons in the South Florida region. And when you call to hire us you will receive exceptional pet dog training services. For any inquiries, you may call us at (772)-600-8435 or visit our contact page.