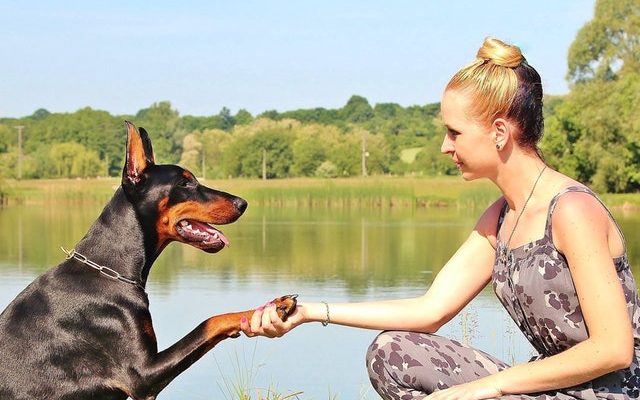 April 1, 2021 |
Did you recently add a new fur friend and are ready to start training your dog? Proper training and socialization are among your dog's basic needs. It's important to start training your dog as soon as possible to prevent the formation of bad habits.
At first, dog training can seem pretty overwhelming, especially if this is your first dog. The truth is that training your dog is a very big project. If you take it step-by-step, you will find the task to be far less daunting. You also have the choice of enlisting the Palm Beach dog training professionals at Giving A Dog A Bone. Hiring a professional dog trainer is beneficial to your pup's development
Know The Basic Foundations of Training Before Having Your Dog Trained.
Knowing the basics of dog training is essential for any dog owner. If you know what behaviors to look for then the process of correcting them will be that much easier.  Training your dog should be fun! Everyone knows it's easier to learn when you are having a good time, so try implementing some games into your dog training regimen.
Use a training schedule and keep on it. Dogs, much like children and even adults need structure. Keep your dog on a training schedule that they will become used to and even look forward to. Most experts agree that if you keep to your schedule you can teach your dog the basics in about six weeks.
There are many different ways to train a dog, but most dog professionals agree that the positive way is the best for both the dog and trainer. Use positive reinforcement such as back rubs to reward your fur friends after a job well done.
Basic Commands and Fun Tricks
There are some basic dog training commands and dog tricks that every dog should know like come, speak, drop it, stay, back up, etc. Basic commands give your dog structure. In addition, they can help you overcome common dog behavior problems and will help keep your dog safe.
House Training and Crate Training Your Dog
Most dogs either live inside or spend some of their day inside the hoe, thus they need to be properly house trained. If your dog stays inside you will need to train them on where in the house is an appropriate place to eliminate. Therefore, house training is one of the first things you need to work on with your dog and your dog trainer. Crate training can be a very helpful part of the training process. The dog training professionals at Giving A Dog A Bone are ready to lend a hand in potty training your dog.
Another part of training is Crate Training Dogs and Puppies. Not only will it help with housebreaking, but it will also give your dog a place of his own.
When it comes down to it, house training is not that complicated, but this doesn't mean it's easy. Consistency and diligence are key during the housebreaking process.
Submissive/Excitement Urination in Dogs: If your dog is still having accidents in the house, it may be more than a simple housebreaking issue. Your dog might urinate out of excitement or to express submissive behavior.
Leash Training Dogs and Puppies
Every dog needs to learn to walk on a leash. Besides the fact that most areas have leash laws, there will be times when keeping your dog on a leash is for his own safety. Learn how to introduce your dog or puppy to the leash, then teach him how to walk properly on the leash, even beside you on a bike. A loose leash walk teaches your dog not to pull or lunge when on ​the leash, making the experience more enjoyable for both you and your dog.
Looking to Hire A Certified Dog Trainer in Palm Beach County?
The professionals at Giving a Dog a Bone have provided their quality services to countless patrons in the South Florida region. And when you call to hire us you will receive exceptional pet dog training services. For any inquiries, you may call us at (772)-600-8435 or visit our contact page.